Different sizes and designs
There are many factors to consider when one decides to purchase an outdoor sauna. First of all, the size: length and height. Most likely sauna would be minimum 2 m. and maximum 5 m. of length, standing about 2.5 m and being about 2.4 m. of width. So one needs to adjust the decent area in the garden. There are uncountable variations in designs, but the most popular are barrel and igloo sauna. Igloos due to their Scandinavian appearance recently have become extremely popular and likeable. Worth mentioning that there are vertical saunas too. Basically, they are designed to require the smallest place as possible.
Different wood type
Wood type is also a very important thing to consider. This selection very much depends on the budget. The most likely sauna will be made of Siberian spruce, larch, thermo wood or Canadian red cedar.
To briefly summarize, Siberian spruce is the most popular option among the smallest budget having customers. Indeed, it is a good option, but Spruce requires more maintenance and it is quite soft. Longevity is more than 10 years, but some signs of decay or mould would appear. Needs to be treated externally twice per year using linseed oil (recommended);
Siberian larch is the most popular choice for medium budget clients. Larch is a hardwood, strong and resistant. It also needs to be oiled twice per year in order to maintain an appealing look throughout the year.
Thermo wood is indeed a very different choice. Wood is dark, light and resistant also has the unique smell. This wood is originally Siberian spruce processed in height temperature. During the process, water capillaries are closed therefore wood movements due to environmental change is reduced to a minimum.
Red cedar saunas are extremely expensive, but the benefits of this rare wood are well known.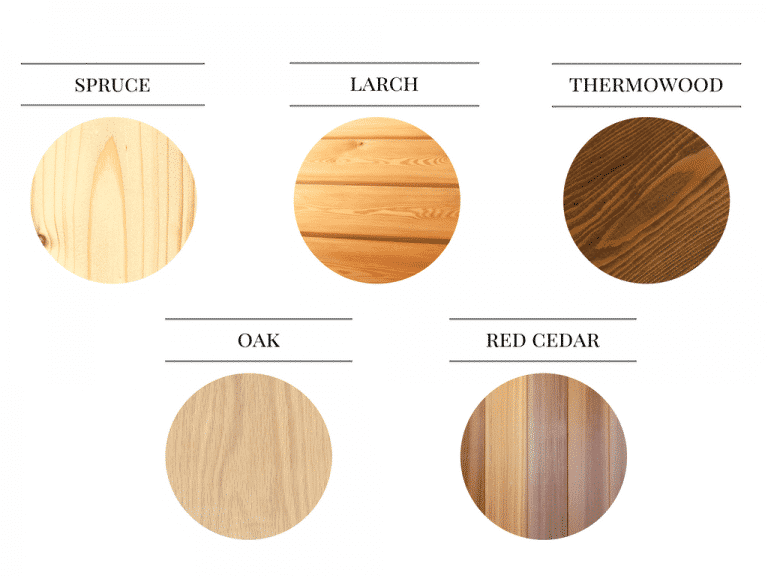 What base should under the sauna be?
The base should be horizontal and that's the ground rule. It can be made as a wooden terrace, stone terrace or even stand directly on the ground. The base area should be prepared according to sauna`s dimensions.
Heating source
Saunas can be heated by electric or wood-fired heaters. There are many heaters available, but the most popular nowadays are Harvia made "Harvia M3" – wood burner and electric – "Harvia Vega".