Soon enough you will be able to experience a relaxing bath, but first, you need to carefully prepare your hot tub or sauna – it should be set on a solid foundation, fastened in place and covered with a protective layer. It is both easier to transport and unload a well-packaged container. Here at TimberIN, to ensure that your brand-new hot tub or sauna arrives in perfect condition, we place great importance on the packaging.
Stable base – a standard Euro-palette
Both tubs and saunas were put on a stable base – a Euro-palette. For better storage, mounted hot tubs are positioned horizontally. Larger and longer pieces of unassembled tubs and saunas are also vertically mounted, whereas smaller and shorter sections are horizontally stacked.
Cushioning and stabilization
A cardboard layer is placed under the cover of each installed hot tub to shield the polypropylene and fiberglass covering. After putting the hot tub on a Euro-palette, it is held in place by wrapping and securing a belt across the bath and under the Euro-palette. The same refers to items that are not installed, which are piled and then fitted.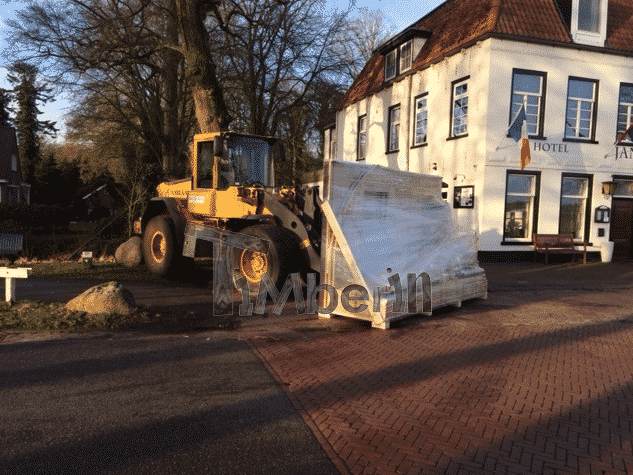 Wrapping
The entire package is tightly covered in the protective plastic film once all pieces of the hot tub and sauna are sealed and tied. This helps to keep all pieces together and protects against cosmetic damage to the material.
Measurements of fully-packaged products can be found on the product page by clicking the technical sheets button. Most popular models and their measurements can be found below: