Polypropylene liner is strong, stable and long-lasting. First of all, the inner frame is formed to have the desired structure of a hot tub. This polypropylene material used in our hot tubs is lasting, ecologic and easy to clean. Polypropylene liner could have a double-insulated bottom as well as insulated walls.
Polypropylene closed benches
We also provide polypropylene benches which could be open or closed. In the photos, you could see closed-benches. Choosing polypropylene closed benches helps to save water since it does not flow under the benches. Besides, these benches are securely attached to protect the water from leakage inside.
Round edge
There's a saying that person usually "feels in love" with their eyes, so that's why we think that the sill`s shape is very important. Our round-edged wood-fired hot tubs are formed to be sleekly and long-lasting. The main details of the element are two joints. It is connected with four wooden grooves and then strengthen together.
Installation of a wood burner
Internal wood burner has six points that must be securely connected in order to use the stove safely. In order to securely use it, six metal parts are welded into the specific positions anchoring the burner. Stainless steel screws are being used.
2 meters stainless steel chimney and rain cap are also included. The chimney is dissembled into two parts when it's ready to be delivered.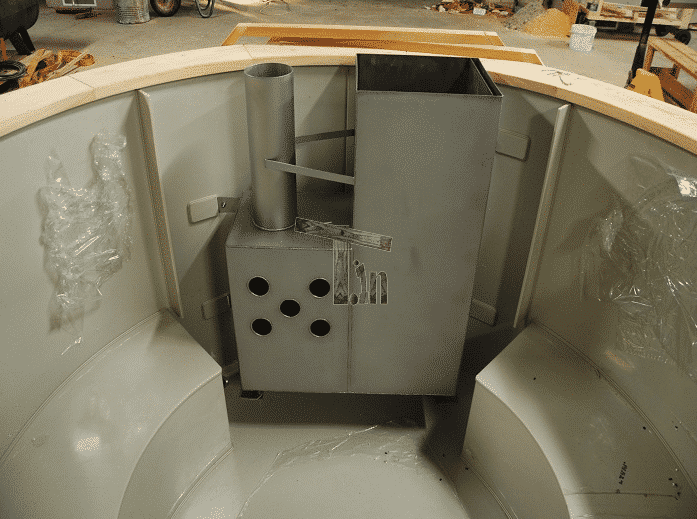 Thermal-insulation
The hot tubs are similar to the residential houses in terms of insulation. In order to secure the proper functioning, the walls, the base and the lid must be well-insulated. All polypropylene and fibreglass models can be fully insulated with above-mentioned options. Partly insulation is also possible but not recommended. On the other hand, wooden hot tubs cannot be insulated.
Wooden decoration
Wooden trim makes a polypropylene of fibreglass tubs looks perfect. It is not only visually appealing but secures the proper installation of all inner construction parts like massage systems, LED lights and more.
Stainless steel rings
These rings tighten the structure of the hot tub. It puts wooden trim together and makes a construction solid.
Wooden guard
Wooden fence in front of a heater is necessary if the internal burner is used. It helps to keep the hot heater`s surface from your skin. In case of the external burner, the wooden guard is not mounted.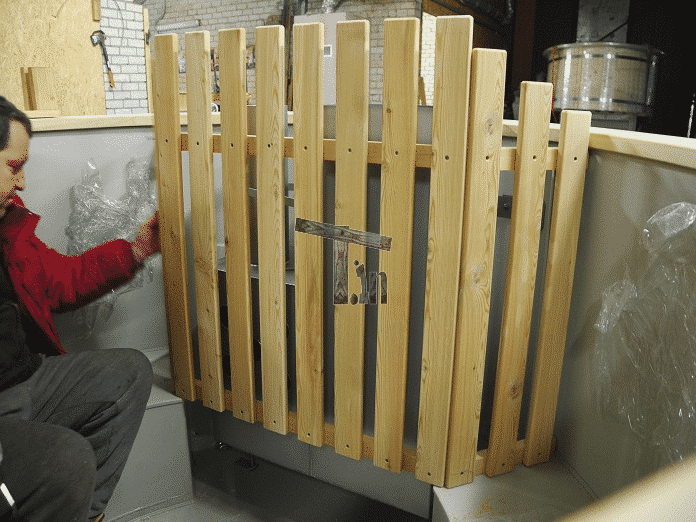 Mini-Bar
Mini-bar is secured with the stainless steel screws. This bar has four places to put the drinks in. The wooden mini-bar is carefully crafted with the very smooth corner parts so that anyone will not get hurt while having fun in a hot tub.
Wooden cover
Wooden lid is made of two parts, each of the parts has two handles to lift it. In order to move a part of the wooden cover, it is advisable to use those two handles simultaneously since the wood is heavy.